Dinosaur Electronic's Ignitor Board Accessories
Water heater adapters, mounting kits and Ignitor board covers
2-Tab Mounting kit for Atwood®/Hydroflame Water Heaters
& covers for UIB Series Igntior boards
The 2-tab mounting kit allows you to mount a Dinosaur Electronic's UIB S or UIB S Post ignitor board in an Atwood®/Hydroflame® water heater without having to drill a hole to mount the board and risk drilling a hole in the water tank. It comes with an aluminum adapter plate (lower left), a clear small cover (lower right) to protect the UIB S or UIB S Post igntior board (sold separately) and mounting hardware.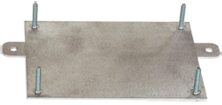 Small and Large covers
Tough, clear, fire retardant ABS covers for universal ignitor boards. These clear covers offer protection from contamination
and moisture while still allowing you to see the diagnostic LED. Small cover for Small (3.25"x4.25") ignitor boards and
Large covers for Large (3.5"x5.10") ignitor boards. Covers are for use in water heaters and refrigerators only.
Not for use in Furnaces.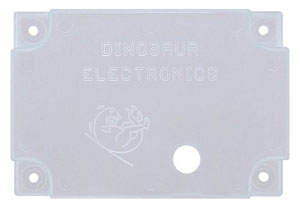 Propane is an explosive gas!
Ignitor boards and Ignitor board kits should be installed by trained service technicians.